ALESSANDRA d'EPIRO DUSMET de BEAULIEU
SOCIA SIAE OLAF e DOR, OPERE LETTERARIE DRAMMATICHE E RADIOTELEVISIVE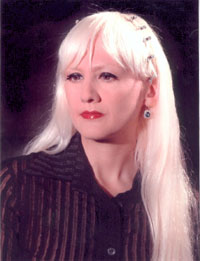 Alessandra d'Epiro Dusmet de Beaulieu after a First Class Degree in Foreign Languages, attained the TEFL, Teaching English as a Foreign Language at the ISE International School of English of the University of Malta, and the Master of Arts in Educational and Career Guidance at the University of Malta, Faculty of Education. She is a writer both in Italian and in English. She published articles regarding different topics and books such as:Una Metodologia dell'Apprendimento, Forever in the Sky, Counselling in Learning as a Lifelong Process, Enjoy English.She teachs at school a Method of Study in a Special Course based on Lozanov's Suggestopedia and Roger's Counselling and on Conselling Theory and Skills learnt at the University of Malta where she has cultural exchanges with the Counselling Service.
CURRICULUM LETTERARIO-ARTISTICO
LIBRI:
1) NERO CLAUDIUS CAESAR AUGUSTUS GERMANICUS 2009, ROMANZO E DRAMMA, ISBN 978-88-903865-1-0
2) FIORI NELLE FOIBE 2008, NOVELLA E DRAMMA, RPG REGISTRO PUBBLICO GENERALE OPERE PROTETTE- MINISTERO BENI ED ATTIVITA' CULTURALI BENI LIBRARI–DIRITTO D'AUTORE , A 048241
3) ENJOY ENGLISH 2005, 7 RACCONTI DI LETTERATURA ED ESERCIZIO DELLE ABILITA' LINGUISTICHE, PREFACE C.B. UNIVERSITY OF CAMBRIDGE
4) COUNSELLING IN LEARNING AS A LIFELONG PROCESS 2003, SAGGIO SULLA COMUNICAZIONE, PREFACE D. M. UNIVERSITY OF MALTA
5) FOREVER IN THE SKY 2000, RACCOLTA DI POESIE, FOREWORD AND ENGLISH VERSION
6) UNA METODOLOGIA DELL'APPRENDIMENTO 1999, METODO DI STUDIO, PROT 4498 11-05-2000 PRESIDENZA CONSIGLIO DEI MINISTRI
CANZONI:
MAMMA DELLE ROSE, MAMAN DES ROSES, MUMMY OF THE ROSES, MADRE DE LAS ROSAS, MUTTER DER ROSEN, 2007 PIANOFORTE
LETTERATURA STORICA PUBBLICATA SULLA RIVISTA GUARDIA d'ONORE DELL'ISTITUTO NAZIONALE GUARDIA d'ONORE al PANTHEON–ROMA 2004-2010:
1) RE UMBERTO II, CASCAIS
2) LA REGINA MARIA JOSE'
3) I CAVALIERI DI MALTA
4) PER CRISTO E PER IL RE:DEUS LO VULT
5) PENTECOSTE AL PANTHEON
6) NODI D'AMORE
7) ARETE': ALESSANDRO MAGNO E VITTORIO AMEDEO DI SAVOIA
8) LE PRINCIPESSE VOTATE A DIO
9) JEAN de LA VALETTE: LA CROCE E LA SPADA
10) RE UMBERTO II PADRE E SOLDATO
11) GENETLIACO DI SAR EMANUELE FILIBERTO DI SAVOIA PRINCIPE DI PIEMONTE E DI VENEZIA
SAGGI DI SCIENZE DELLA FORMAZIONE PUBBLICATI SU ENGLISHES, RIVISTA DI LETTERATURE INGLESI CONTEMPORANEE-DIPARTIMENTO LINGUE, FACOLTA' DI SCIENZE POLITICHE UNIVERSITA' LA SAPIENZA ROMA 2006-2010:
1) COUNSELLING 6) SUGGESTOPEDIA
2) GROUP DYNAMICS 7) ESSAY ON SHAKESPEARE'S JULIUS CAESAR:
3) THE STUDY OF ENGLISH MAN AND POWER
4) THE METHOD OF LEARNING
5) THE PROCESS OF LEARNING
CURRICULUM CULTURALE PROFESSIONALE
1) LAUREA IN LINGUE E LETTERATURE STRANIERE MODERNE, INDIRIZZO FILOLOGICO 110/110 E LODE; TESI IN FILOLOGIA GERMANICA ( CINQUECENTINA IN BRITISH MUSEUM, LONDON) AA 1992/93
2) MASTER OF ARTS IN EDUCATIONAL AND CAREER GUIDANCE AA 2000/01
3) TEFL, TEACHING ENGLISH AS A FOREIGN LANGUAGE ISE, INTERNATIONAL SCHOOL OF ENGLISH 2001
4) CORSO DI PERFEZIONAMENTO IN "VALUTAZIONE DEGLI APPRENDIMENTI ED AUTOVALUTAZIONE NELLA SCUOLA DELL'AUTONOMIA AA 2005/06
5) MASTER IN "IL DOCENTE RICERCATORE DI LABORATORI DIDATTICI E FORMATIVI" AA 2006/07
6) MASTER IN " IL DOCENTE RICERCATORE DI MODELLI PER IL MIGLIORAMENTO DELLA SOCIETÀ" AA 2007/08
7) MASTER IN " IL DOCENTE COME MODELLO DI EQUILIBRIO FORMATIVO" AA 2008/09
8) MASTER IN " DIRIGENZA SCOLASTICA, LEADERSHIP E GOVERNANCE DELLA SCUOLA AA 2009/10

© COPYRIGHT 2006 All rights reserved - Proprietŕ letteraria ed artistica riservata Alessandra d'Epiro Dusmet de Beaulieu
no part of this web site pictures, images, articles, books,may be reproduced or transmitted in any form or by any means electronical or mechanical including photocopying, recording, or by any information storage and retrieval system without permission in writing from the author;every effort has been made to trace copyright holders and any rights will be aknowledged if notice is given to the author.